Founded in the early 1900's, Prince, Youngblood & Massagee, PLLC is one of Western North Carolina's
oldest and most well-respected law firms.

Located within the mountains of Henderson County, PYM serves all of the surrounding counties, including Buncombe, Transylvania, Polk, Rutherford, and McDowell.

The firm maintains a general litigation practice and is admitted to practice before all State and Federal Courts.

Visit our office at the corner of Washington Street and Third Avenue, next to the Henderson County Public Library, only blocks from Historic Downtown Hendersonville.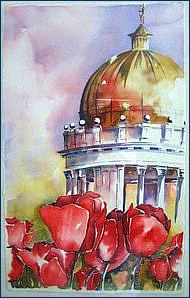 Watercolor painting of the Historic
former Henderson County Courthouse